Vacation Bible School is underway across the U.S., and many churches are using the Camp Moose on the Loose program published by Regular Baptist Press.
One of those churches is Maranatha Baptist Church, Dover, Delaware. Through Camp Moose on the Loose, students learned about the life of Christ as seen through the eyes of Peter and about the lasting forgiveness that only Christ can give. The students were also excited to meet Bruce the Moose, the program's puppet. Church member Benjamin Wager, a student at Appalachian Bible College, served as the VBS director.

"We had a great group of kids that heard the gospel and grew in their faith," says Pastor Lance M. Wager. "One young boy trusted Jesus as Savior."
The church's program developed its own missions project. "Kids raised over $600 to paint the church so that Maranatha could continue to be a great testimony in the community," Pastor Wager says.
Meanwhile, Emmanuel Baptist Church of Warrenville, in Naperville, Illinois, is preparing for its VBS, to be held July 29–Aug. 2. Members built a float promoting their Camp Moose on the Loose program, highlighting its fun camping theme. About 20 people walked alongside the float in their community's Fourth of July parade, handing out more than 2,000 packets that each contained a VBS invitation, a gospel tract, and candy.
Pastor Dale Williams says, "Once the parade is completed, we walk back through the parade route and pick up any trash as a community service."
The church has been participating in the parade for about 10 years.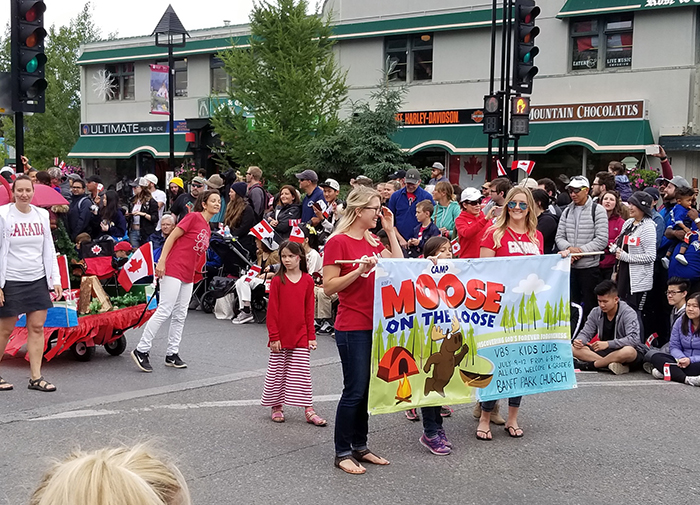 Another church that used a parade to promote its VBS was Banff Park Church, Alberta, Canada.
While spending two weeks in the Rocky Mountain region of Alberta, Tom and Judy Cannon, members of Spring Hill (Fla.) Baptist Church, watched the Canada Day Parade in Banff on July 1. The Cannons say they were "pleasantly surprised" to see Banff Park Church walking in the parade, carrying a banner advertising the church's Camp Moose on the Loose VBS.
Spring Hill Baptist Church itself recently hosted VBS using the Camp Moose on the Loose program. The Cannons say their church has "used [RBP] Sunday School and VBS materials for years and love them!"