ARLINGTON HEIGHTS, Ill.—To learn about Big Fish Bay: Hooked on God's Mercy, churches can check out the VBS website, order a catalog, or review the introductory kit. And because shipping has already started, they can receive their materials long before summer.
Churches choose RBP VBS for a variety of reasons, including its emphasis on evangelism. Joshua Mason, creative manager of Vacation Bible School, says RBP's evangelistic approach is powerful because it reaches students while they are enjoying VBS and paying attention. "Often a point will arise during the lesson—and even in snack or game time—that could help students grasp something they need to know to understand the gospel," he says. The VBS materials help students understand how that "something" applies to them. Then when the plan of salvation is presented, it's much more likely that students will respond to it, since they have already grasped many of the concepts.
Big Fish Bay is a fully integrated, gospel-centered program that weaves the salvation message into each lesson. This is why RBP VBS is the only VBS publisher recommended by Child Evangelism Fellowship, the world's largest evangelistic outreach ministry to children. Cassandra M. (Enterprise, Alabama) says she loves that the gospel message is included in every lesson. Diana S. (Barefoot Bay, Florida) says RBP VBS clearly explains the gospel. Plus, "the materials are easy to use, and the themes are easy to decorate for, whether a large or small church."
Here is what else VBS customers are saying:
The kids love the material and participate in learning because of that.
We use [VBS from RBP] because of the good Biblical instruction and because we do a puppet show every year. [RBP VBS] is the only one that has puppet material.
Everything that we needed was right there and available. It was easy to use, great for small churches.
Love the curriculum and the organization of it. Very well thought out with freedom to choose activities within the lesson.
And here's more to love about RBP VBS—shipping is free on qualifying purchases.
Josh Mason says the VBS team had been considering a nautical theme for a while. "It became clear through our research and prayer that 2020 was the year for it. The same is true of the lessons about Jonah, which have a timely application about God's mercy and were part of the reason behind the name Big Fish Bay."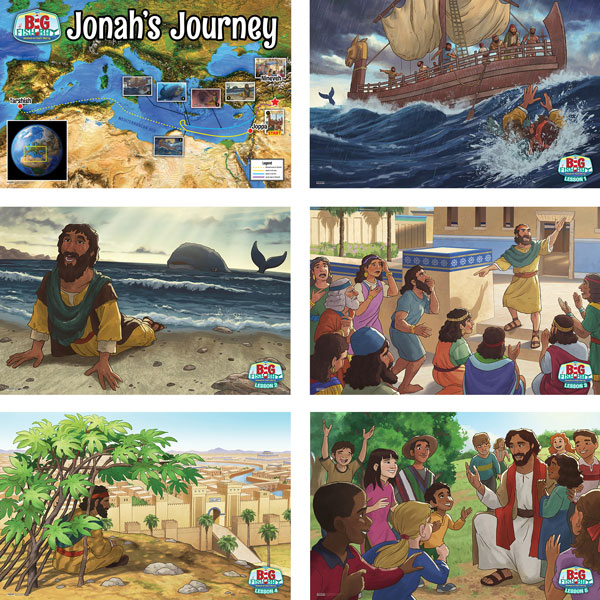 Big Fish Bay includes all the features customers expect from an RBP VBS, but has new ones as well: a worship DVD and lesson visual posters. Betty Lou R. (Millerstown, Pennsylvania) says RBP's VBS music is "leader friendly and child appropriate." Even so, the new DVD will make singing the VBS songs more exciting and will simplify leading the songs and teaching the words and motions. Mason says the lesson visual poster set will enhance the lessons through large, beautiful art. The set includes a map of Jonah's journey that "could be one of the most helpful visuals that teachers will use."
Big Fish Bay is available in KJV and NKJV. John D. (Louisiana, Missouri) says his church is thankful RBP still prints materials using the King James Bible. Nathan G. (Urbandale, Iowa) says that while he appreciates the KJV of his childhood, he's thankful he can "share the same truths to children using a modern language like the NKJV and see God do great things in the lives of kids today."
Pastor John Jones from Ooltewah, Tennesse, says, "RBP is a trusted resource for Bible-based, evangelistic material. Its style is captivating and inspiring. I have used RBP's VBS materials exclusively for 16 years at every church I have pastored and whole-heartedly recommend them."
An exciting delivery could be coming to your church soon. Order Big Fish Bay: Hooked on God's Mercy to start receiving your shipments!
About Regular Baptist Press
Regular Baptist Press offers a wide range of Sunday School curriculum, VBS and kids' club programs, Bible studies, books, and training seminars. RBP resources are Biblically sound, covering the entirety of Scripture, and designed for strong spiritual growth.
Regular Baptist Press is the publishing ministry of the Regular Baptist Churches.