Josh and Michelle Plonk minister at Bethel Baptist Church, in Schaumburg, Ill., where he is the children's pastor and she leads a Kids4Truth Clubs choir. During the coronavirus outbreak (and resulting stay-at-home orders), Michelle has been making videos to go along with Josh's lesson videos and to encourage her choir kids. The result has brought encouragement, music, and even some laughter to the choir kids and their families.
What's Normal for the Choir
The Kids4Truth Clubs normally have two choirs, one for 1st–5th grade students, led by Michelle, and one for four- and five-year-olds. Though Michelle's choir practice videos started out being for her own choir, she began including songs for the younger children too.
Just as during times when Kids4Truth Clubs can meet in person, the virtual choir practices include songs that go along with the truths that Pastor Josh teaches during lesson time. At times, the Kids4Truth Clubs will show the Bethel church body what they're learning by singing in a service. "We really refine those songs, sometimes adding harmony or extra parts," says Michelle. Pastor Josh will ask a couple of kids to recite their truths from the unit in conjuncture with the choir "performance," which Michelle views as an opportunity to minister: "I ask the kids when they sing in the service to realize they have a special opportunity to minister to their parents and others (who may be sad) in a unique way. I seek for them to learn that this ministry opportunity is not for self-glorification, but for serving others and glorifying God."
We're Not in 'Normal' Anymore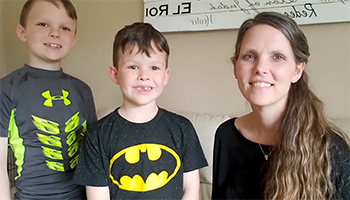 Michelle did not jump right into making videos for her choir. She and Josh talked about whether they should do something, since most of their church's families could find plenty of Christian music for kids on YouTube. "My own children LOVE to sing with videos on YouTube, and I thought that my choir might enjoy the video," she says. Sure enough, "we found that our Bethel families enjoyed the connection. Their kids liked seeing people they knew. Even though they can find 'more professional' videos, they value the familiarity. Their children like seeing my children."
Feedback from Bethel families has been encouraging. "We have heard that some parents have set aside the normal Kids4Truth time in their schedules and use the videos at that time. One parent told me that they watch the videos several times throughout the week. She said even her older kids come in to watch parts of them. On my social media account, I have had adults tell me that they have been encouraged by the videos. Josh has had people from other parts of the country tell him that they are using his lesson videos, and I have had comments on the songs from people all over the US."
Michelle teaches American Sign Language signs to go with the songs the choir "practices" on the videos. One week she signed "turn your voice off; let's sign"
without telling the choir members what she was saying. "I think they understood though," she says. An unexpected blessing for her is that ASL families have shared the videos with their deaf loved ones.
To get the videos into her choir members' homes, Michelle emails all the kids' choir families to let them know that a new video is available. The emails include YouTube links to her husband's videos. The Plonks also post the videos to their personal Facebook page. Some of the families have started subscribing to the Plonks' YouTube page so they receive notifications when a new video has been posted.
Oops! The Outtakes
At the end of each video is a section of outtakes. Michelle explains,
The first week I did this, I had these beautiful visions of creating videos that would be spectacular for the kids to use. I thought, "Oh, I'll just have my kids sing. . . ." I have five very active little boys. Nothing went according to plan. I had all this footage that I couldn't use. I had to record on another day. I was frustrated, but my kids were having the time of their lives. I decided to add some of those moments because I knew that our families would love it (even though it was at my expense). We actually get lots and lots of feedback about the outtakes. I have considered stopping them because they take hours to edit and because my children have started being naughty just to be funny; BUT so many people are enjoying them. I am glad that I can spread joy at this time.
Michelle hopes her videos give children "a small sense of normalcy in a time of history that is anything but normal. I hope they learn the songs and feel joy when they sing them. I hope they learn to sing praises to God regardless of whether they are in their homes, cars, or outside, in the choir room, or in a church service. I hope they hide the truths of these songs in their hearts and dwell on them throughout their lives. I hope they look forward to the videos and know that our family loves them."
***
Kids4Truth Music resources are available for download at RBPstore.org.
Visit the Plonks' YouTube channel to view Michelle's Kids4Truth Clubs choir practices, Josh's lessons, and other videos for kids.
The Plonks took a break during Week 5 to make some fun videos.