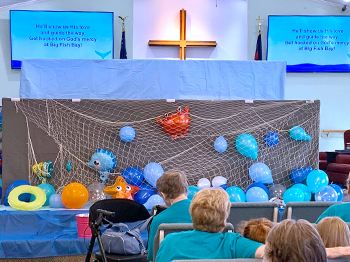 With the passage of Labor Day, summer is fading fast, and VBS 2021 is history.
Or is it?
Consider wrapping up VBS 2021 with follow-up throughout the fall and into the new year. Here are six ideas for now, plus five more to put you ahead of the game for VBS 2022!
Wrap It Up with Follow-Up after VBS

Send a letter to the families of the new contacts, inviting them to your church.
Hold a Vacation Bible School emphasis some Sunday night this fall. If you haven't already held a staff appreciation service, this would be a good time. Use this opportunity as a way to touch base with families and invite them to attend. If you haven't held a fall kickoff for your children's programs, consider combining the two.
Help Sunday School teachers visit the VBS students who would be in their classes (including parents of VBS students). Pair the Sunday School teacher(s) with VBS worker(s) the students enjoyed. A visit from them is a natural way for families to meet the teachers and for the teachers to invite families to Sunday School.
Throughout the year, send several mailings to the children and their parents to inform them of events in your church. Mail could include birthday cards if you recorded DOBs on the registration cards.
If you scheduled an adult class specifically for the parents of new contacts, this class or small group should be held as soon as possible. Consider using an evangelistic Bible study or one of the studies in the BuildUP series.
Keep on praying and working!
And it's not too early to start thinking about VBS 2022!
Plan for Follow-Up before, during, and after VBS 2022
Before VBS, ask the Lord to give you new contacts, new believers, and new members through Vacation Bible School.
During registration, ask for students' birthdays on the registration cards so you can send birthday greetings throughout the year.
During VBS, identify new contacts for visitation teams and/or Sunday School teachers for follow-up visits.
During VBS, call the closing program the Parents' Program to encourage more parents to attend. At this program, give the parents printed information about your church.
After VBS, adopt the ideas listed under "Wrap It Up with Follow-Up after VBS."
This is part 4 in a four-part series, Conserve the Results of VBS.